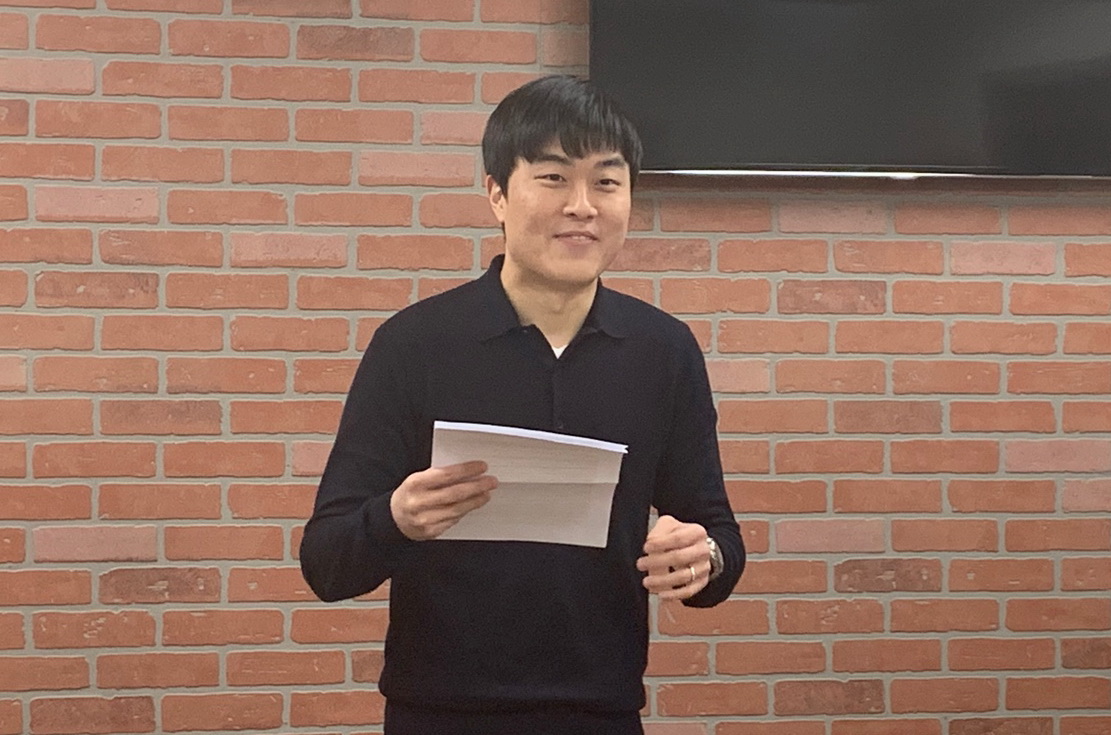 Long Island eCBMC brother Rex's testimony
1. Intro – about myself
I'll start by briefly introducing myself.
My name is Rex Kim, I'm 31 years old. I was born and raised in New York, to 1st generation immigrant parents from Korea. My mother was a member of the Christian church and through her coercion, I attended various churches throughout my life (9 in total). Despite my many years of attending church, I was first exposed to the faith through my wife who witnessed to me during my college years, which led me to become a diligent church-goer, but I still didn't understand the Gospel, or the significance of Jesus Christ until fall of 2018, which is just last year. It was at that pivotal moment where I finally understood the truth, and came to the realization, that I was a lost soul & false convert for 29 years (which explained so many things), but I am forever-joyful because I now know the truth, which has set me free, and I am proud to proclaim that I am now a Christian and a child of God. I live with my wife and 6-year old son in Queens and attend Haeun church in Bayside.
2. Why I joined
I started attending this, Long Island chapter of CBMC in the summer of 2019 through the invitation of brother Kyun.
I learned that CBMC was a ministry that connects men to the Christian faith and to each other in the name of Christ, and that this subgroup in Mineola, focuses on brotherly love and support among brothers as we discuss our Christian lives in the workplace, at home, and at church. I was drawn to the idea of a meeting among believers (outside of church), and was very interested in "preaching the Gospel in the marketplace"(which was listed on the CBMC website at the time). To me, the "marketplace" or the M of CBMC, represents the mission field, and is one that is highly accessible in relative terms, due to its limited scope and the fact that we interact with it almost on a daily basis. Attracted to these ideas and filled with excitement and zeal as someone new to the faith, I attended my first meeting to learn more.
3. Developments since then…
Since I started attending CBMC, I grew in wisdom and in my faith through our fellowship and intercessory prayer. It was edifying to hear the different perspectives and about the faith-walks that my brothers experienced – each one being so unique. I believe that regularly attending CBMC meetings definitely contributed to my developing a greater dependence & reliance on God, and helped me to orient myself more towards the Lord.
Since joining, a dynamic Manhattan group was established by our brothers Sang and David, and it was a blessing to attend some of those meetings at which, the Lord provided me with hope and encouragement by revealing the fact that the body of Christ was strong and large, even in Manhattan, where fellow Christians live and work and exist in this world, but are not of this world; living instead in faith and service to our Lord Jesus Christ.
4. What I learned & my perceived value
My experience with CBMC continues to reinforce the notion of the importance of Christian fellowship and brotherhood (as these are outlined in scripture), and I am learning first-hand about the tremendous value and necessity of having a close group of fellow believers who can help to better perpetuate one's Christian life, and demonstrate Christ-filled living on an ongoing basis.
5. What direction I would like to see us move
As we continue on with our journey, I would like to see a greater focus on prayer: both at the individual level where we adopt alife of constant prayer in communion with God, and more time dedicated to prayer during meetings: both group prayer and prayers of intercession. I desire this because I know that prayer is powerful and transformative, and because I feel that our CBMC group and meetings provide a wonderful atmosphere and opportunity to seek the Lord and to go to him, through prayer.
Secondly, I would love for us to dive deeper into God's Word. I like the daily scripture reading that we are doing now, but it would be so fulfilling to go deeper, to learn from scripture, sharing what we have learned with our brothers, reviewing and reinforcing the teachings and revelation of God, that is provided through His Word. Fortunately, Kyun recently shared that he is planning to have our group embark on something similar to this, so I greatly look forward to that in the upcoming year.
Lastly, I would be interested in learning about strategy and techniques on how to evangelize in the workplace. I can see God working to further his kingdom in various areas of my professional arena and network. It is my hope to be able to proclaim the Gospel to as many folks as I can, and it would helpful to learn about any methodologies or techniques which can be applied toward this task.
In summary, I am basically interested in things that are related to the lifelong pursuits that I have developed, from the convictions that God has placed in my heart – not out of obligation, but out of my sincere desire. These include:
a. The lifelong study of God's Word – which is related to a lifelong pursuit to learn more about God and to grow closer to him (because I believe that there no endeavor that is more worthy or fulfilling than this)
b. The lifelong desire to be in communion with God
c. My lifelong mission to serve Jesus Christ and our brothers and sisters
d. My lifelong goal of communicating the Gospel – first with those who are close to me, expanding outward to anyone and everyone who hasn't heard about Jesus
e. The lifelong pursuit of striving to be like Christ and following his example at every opportunity
f. And the lifelong desire to glorify God
6. Closing
In closing, I'd like to share a letter that I wrote to my son over the summer. For some reason, I was compelled to write this while hearing a sermon from Pastor Hyunsoo Lim, regarding a different topic: which was about the source of humility and being humble, but I digress. Onto the letter.
—
Dear son,
I write to you with a request. There is a point that I would like you to mention during your eulogy at my funeral.
I would be greatly pleased if you would share the only thing that truly matters which is the following:
I trusted, followed, and served my Lord Jesus Christ, in earnest, and to my fullest capacity, guided by the Holy Spirit, enabled by the grace of God. In my passing from this world, I'd like to express my thanks to my faithful Father in heaven, who is God most high.
I write this in advance in hopes to live such a life: relying on God, and walking the path that He would have me walk, following Jesus's lead and example, always filled with praise and adoration for my Father in heaven.
I love you son and I sincerely hope to see you again, alongside our Lord, and Heavenly Father. Thank you for everything.
Your brother,
Rex
—
I wrote this, which was a confession of my heart, to serve as a guiding principle for myself, and I share this with you now, because it is my belief that if I remain a longtime member of CBMC, following in the footsteps of some of my brothers here today, I trust that they would keep me accountable to my goal, through love, prayer, support, encouragement, and discipline, throughout my entire time with them. That is genuine Christian brotherhood, and that is true Christian fellowship, which to me is invaluable and absolutely necessary.
Thank you all for listening.